Content Scope: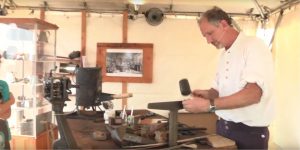 This continuously updated show annually has proven to intrigue, engage and excite the youth to seniors with two levels of fun, participation, and permanent life invested memories.  Visitors get to hold rare living 17th thru 19th century living archives and contrivances, see them produced live, and attempt to win on two game levels ending in the mystery case challenge!  Attraction is an exclusive high light to specific visitor groups defined in your weekly event schedule.  Meet and exceed your annual educational community outreach goals with this entertainment.
Bio brief-About the talent, and principle:
Michael Felk, is one of a few of his kind, desiring to perpetuate the growth of an early European trade little understood but extremely important in the history of the new republic of the United States of America.  Since 1994, he has provided over 1000 professional interpretive shows in both the public educational, museum, and Agricultural Fairs, describing the artisan trade of Tin-smithing as it would occur in the 18th and 19th centuries of early America.   He is a native of Winston-Salem, North Carolina and has combined both College and over twenty four years of professional experience in both research and direct applications of ornamental period products and services.  He is happily married, and has two children and resides in Yadkinville, NC.
About the talent Michael Felk, Bio brief
ed-wex
College-MET-EET-A.A.S.
Established in 1994
7 years apprenticeship combined with continuous research
24 years professional practice full time
Delivering over 1,113 shows equaling 86 shows/year since 2005